---
Introduction:
Press fit fittings is made of stainless steel. Stainless steel material is a recognized health material that can be implanted into human body, can meet the national hygiene standards for direct drinking water, and can be 100% recycled. Press fit fittings include elbow, bend, tee, reducer, coupling, cap, flange etc.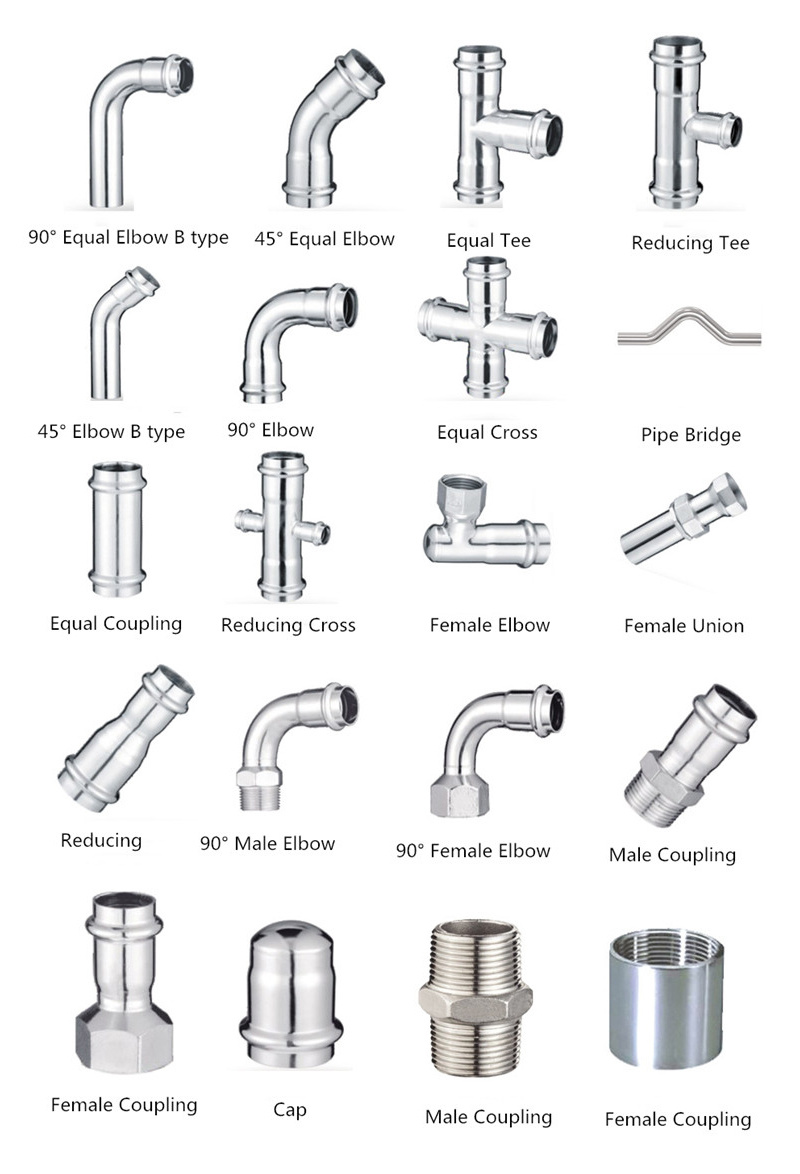 Information:
| | |
| --- | --- |
| Specification | DN10-DN100 |
| Thickness | 1.0-2.0mm |
| Standard | (DIN)DVGW W534-1995; (JIS)JWWA G116:2001; GB/T 19228.1,GB/T19228.3-2011 etc. |
| Steel grade | 304, 304L,316, 316L etc. |
| Sealing standard | GBT 19228.3-2003, EN681-1:1998 etc. |
| Sealing material | HNBR, PTFE, CIIR, EPDM, FKM etc. |
| Max working pressure | 1.6MPa (equal to 232 psi) |
Product Feature:
The press fit fittings can be used for power distribution along the bottom plate or printed circuit board that contains a plurality of flat bus bars made of conductive material. Each of the bus bars is separated from the adjacent bus bar by a layer of electrically insulating material. Multiple conductive press-fit leads extend from the edge of each bus wire. When the layered bus bar wires, the insulating material are put into a case filled with cured epoxy resin, and the press-fit leads protrude from the surface of the epoxy resin.
In the wiring board, the press fit fittings are filled in the resin of the sheet-shaped base material bonded to the board, and the stress generated in the board itself is relaxed, thus to ensure high and reliable performance. It can be press-fitted into the base plate or printed circuit board, with high speed operation.
Installation tools of the press fit fittings.
Manual pipe cutter,

manual hydraulic tools (Used for engineering), hexagon gauge,

clamp block,

manual hydraulic clamp (Used for home),

jaw,

DN65-100 Circular mould,

high-pressure pipe, electric oil pump,

Electro-hydraulic tools,

electric tool jaw,

Groove tool.