Steel Structure, A Long Reportage, Gives A Panoramic Description Of The Supply-side Structural Reform In The First Iron And Steel Province
---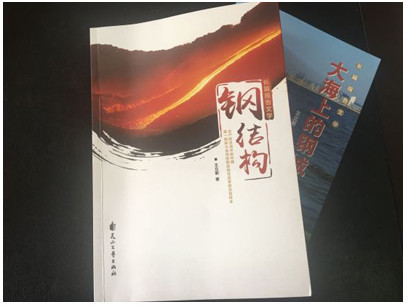 Zhongxin network Hebei news, April 23.The long report literature "steel structure" recently published by Huashan art publishing house. The book gives a panoramic, three-dimensional and authentic demonstration of the supply-side structural reform in Hebei province, China's largest steel province. It has created a new model for sustainable development of China's steel industry.
Hebei is the largest steel province in China. A Tangshan prefecture-level city annual production of steel exceeds the whole of Europe, second only to Japan, ranks the second in the world. While creating the world's remarkable miracle, there is also a serious overcapacity.
"Steel structure" describes, according to the party central committee, the state council supply side structural reform strategy deployment. Hebei provincial party committee, provincial government reduce more capacity actively.
Chinese writers association member, China reportage association member, national first-class writer, "steel structure" author Wang Lixin introduced, Hebei province this "retreat city into the garden" historical decisive battle, the number, scope, scale, difficulty and mission of the enterprises involved are unprecedented in the history of the world steel industry.
In wang's opinion, reduce overcapacity and restructure relocation adjustment, based on domestic market and open overseas market, not only the great change of industrial structure, but also the change of new ideas and ideas. It is a process of quenching steel. The thunderous symphonies of metal and steel of will against each other. Like rolling spring thunder shock in the vibrant Yanzhao land.
In fact, dozens of state-owned and private steel enterprises in hebei province, left live in the city, to the coast, to the industrial park, to southeast Asia to Africa to Europe to set up new factory, mergers and restructuring, transformation and upgrading. In the midst of a deepening global financial crisis and the cold winter of the continuous downturn in the world steel industry, it has explored the "road of spring" of the internationalization of the leap forward. It has created a new model for the sustainable development of China's iron and steel industry.
Wang lixin, the author of "steel structure" with 350,000 characters, is a native of zunhua, hebei province.Successively in "contemporary", "October" "kunlun", "Great Wall" and so on large-scale literary publications "MAO zedong's later years" mother "of the Vienna to hundreds of articles, long, short reports in literature.He has published more than 20 books including the long reportage literature "looking for ten thousand miles to eat rice" and "the past of China".